1 Edward St, Milton, South Otago
Variety of yarns, spun on premises
Merino/possum garments
Facebook: The Woollen Mill Shop Maori Hill, Dunedin
51.1 km
Supplier of KnitPro and HiyaHiya knitting needles and accessories, hand-dyed yarns and fibres, Schoppel-Wolle yarns, Majacraft spinning wheels and accessories. Specialist in sock yarn and boutique knitting, crochet and spinning tools and materials.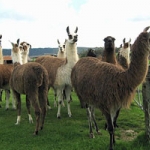 63 Waikawa Valley Road, Waikawa Valley, RD 1, Tokanui 9884
81.75 km
Llama fibre, knitting yarn (manufactured from pure llama fibre) and handcrafted garments for sale. Also Gotland sheep fleeces and knitting yarn (manufactured from pure Gotland fleeces). Visitors are welcome to view the animals 'at home', and the gallery which sells their products. Cover charge of $10 applies unless making a purchase.