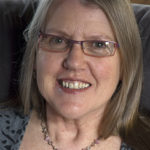 Kate (formerly Kate Buckthought) is a feltmaker, craft dyer and spinner who lives in North Canterbury. She has taught feltmaking to fibre groups throughout New Zealand.
After a (partial) break from woolcraft during which she studied and then taught photography at Otago Polytechnic, Kate has returned fulltime to dyeing, spinning and feltmaking with enthusiasm.
Kate has a particular interest in Wearable Art and garment design, and has had garments exhibited at Creative Fibre events and in shows such as the Hokonui Awards, WoW and Fibre and Fleece.
As well as the listed workshops, I'm happy to discuss any combinations or variations. I generally supply all fibre for felting workshops (at a discount); this is to make sure that there are no disasters caused by unsuitable fibre – I learned this from experience! I will advise fibre costs when you book a workshop.
Workshops
Feltmaking
Beginner's Delight – Never done any felting? Learn about the properties of wool felt and nuno-felt; the best fibre to use; techniques, ways and means. Make a simple felt scarf. This is a starter workshop that should prepare new felters for any of the beyond beginners workshops I offer. ½ day.

Ir-resist-able – A little, fun workshop exploring the use of resists to create small bags, pockets and 3D surface design. This workshop is to build skills; expect to produce samples or small pieces. All skill levels: ½ day taster or 1 day.

Template of Doom – Making hats, bags and other warm lovelies using a template. Sampling your fibre to make accurate templates. Expect to produce at least one template-based item. Beyond beginners, 1 day.

Bag me up, Scottie! – A handsome tote bag over a template, using a woven technique. This is a full day's work, requiring some finishing at home later. Illustrated instruction booklet included. Advanced, 1 day.
Scarves and Wraps
Stash to Treasure Using wools, yarns and fibres from your stash, make a light, airy, one-of-a-kind felted scarf. Fun for would-be felters, experienced felters and non-felters. All skill levels. ½ day

Wrap Up Warm Nuno scarf or wrap. Combine fabric and fine wool to create a sensuous, warm textile scarf or wrap. Explore how design can influence shape and texture. Best suited to beyond beginning felters, although keen beginners will enjoy the challenge! 1 day (depending on time, wrap may need to be completed at home).

Wool all around! Make a versatile circular scarf wrap for yourself from 100% wool, embellished any way you like! It's easy to make and can be worn in a number of ways. (Just) beyond beginners, 1 day.
Boots and bootees
'Potato' baby bootees Simple (but cute!) baby slipper made over a potato. Intro to wet felting, then make a pair of bootees over a potato; these can be finished in a variety of ways. Beginners. ½ day.

'Sandwich' slippers Incorporates an introduction to wet felting over a template. Learn how to make an ankle-height or clog-style slipper on a template. Beginners, 1 day.

Boot Camp Short slipper boots made on a template. (Just) beyond beginners, 1 day.

Boot It To Me, Baby! Make a pair of shaped, soled felt slipper boots to your own requirements, with suggestions for finishing techniques. Advanced felting skills; hand sewing skills required to complete project. Beyond beginners, 1 day.
Hats
Anything from the simplest beanie to a sculptured wonder!
Ball Beanie. Simple beanie on a ball: the easiest hat to make, and can be decorated, shaped and generally tizzied-up. Beginners, ½ day.

Warm Toppers. Hat on a template: find out how to make a more elaborate hat in a brimmed or earflap style. Beyond beginners, 1 day.

Brim-tastic! Double-cap Hungarian style brimmed hat. Not for the fainthearted; this style of hat is quite physically taxing to make, but, following simple steps, it's achievable for advanced felters. 1 day.

Hataganza! Using the template process, make a shaped hat that incorporates imaginative pzazz! Folds, pleats, protuberances – let's get together and make some zany, fun hats – or elegant, chic hats with flair. For experienced felters who are afraid of nothing! 1 day, or could be extended into a fun weekend! From March 2013.
Garments
Waisted.1-2 days nuno-felt waistcoat or jacket with built-in fabric shaping. Make a one-off felt garment on cloth backing, fitted to your body. Design discussion, pattern making and production. If sewing machines are available, a more elaborate design method can be used, taking the workshop to 2 days. Beginners plus; previous experience with nuno-felting flat pieces is advised.

Seamless Jacket Construction 1 day: Make a completely seamless garment from 100% wool felt (not nuno). This workshop is for a mini garment – baby to toddler size, to demonstrate the techniques. Instruction includes method to upsize this to adult. Adult jacket workshop can be given – this will take 2 full days.
Spinning
Although I am primarily a felter, I can and do teach spinning. I offer spinning workshops for those groups who might want to offer their members both technical areas from one tutor.
Get Twisted! How to use your wheel to get the optimum from your fibre. Explore ideas of twist per inch, z-twist, s-twist, end use of yarn and other mysteries such as Navajo plying. Fibre supplied. Beginners, 1 day.

Get Twisted II! Matching technique to fibre. Spinning several fibre types using differing preparation and draw styles to get the best out of each fibre. Expect to produce samples from wool of different types, carded and uncarded, as well as exotic fibres. Fibre supplied. Best for spinners who have a little control – beyond beginners. 1 day.

Art Yarn 101 + Get Batty! What makes an art yarn? What is art yarn good for anyway?
Incorporates: using your drum carder wisely; how to best combine fibres in a batt; spinning from batts. Bring your own fibres to combine into one-of-a-kind lovelies. Spin coiled yarns, supercoils, slubs, noils and neps, boucle, thick & thin. Uses of Art yarns.
1-2 days, depending on requirements of the group. The two parts can be taken independently as one-day workshops, or two shorter workshops can be given in the one day.
Photography for Craft
As a photographer, the question I most get asked is 'How can I take better photos of my work?"' Well, it's not rocket science – although it is science, mostly.
Photographing your craft work. Improve your understanding of photography: explore correct presentation, lighting, framing, exposure, uploading and resizing. Using a small point-and shoot camera, explore different ways of presenting your work. 1 day.

Introductory lace knitting
Lace chart reading
Knitting in the round
Socks two at a time, toe up
Continental knitting
Choosing the right cast on and bind off
Textured stitches and Brioche Knitting
Two Colour Brioche
Brioche in the round (two colour or one)
Drop Spindle spinning
Chain plying on the fly on a drop spindle
Continuous Strand Weaving
Finishing techniques, blocking
Social media for crafters
Ravelry
Basic colour theory
Knit Companion
Cell phone photography for crafters