For the past ten years, Liza has been making the cutest needle-felted bears and other creatures. Needle-felting is her passion and addiction. She has taught night school classes for some years and now she is coming to Festival to share her skills and secrets with us! Liza exhibits at the Doll and Bear Shows and her bears have earned her a large number of awards and ribbons. As well as bears, Liza has created some knights and maidens, especially for our medieval themed festival. See Liza's creations on her website www.mylittlehandfuls.com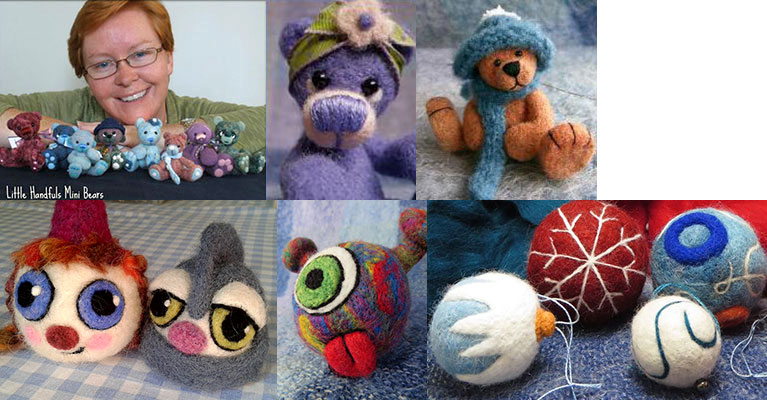 While approximately 95% business for Ashford Wheels & Looms is with hobbyists and craftspeople in the western world, Richard and Elizabeth Ashford take great pride in their connection to communities which are less well off, where their spinning wheels and other equipment are vital contributors to families' wellbeing.
Suzy was born and bred in New Zealand and learned to spin over 18 years ago. Since then she has taught various art-yarn and weaving workshops in the Netherlands where she was based for 12 years. Now back in New Zealand, living with her fibre stash in a little house among the trees, Suzy works as Enablement Manager for Majacraft; writing blogposts, newsletters, working in partnership with Majacraft dealers, as well as continuing to participate in the development of new fibre tools and related products. As a fibre artist, Suzy's work is curiosity driven and experimental at all times. She coined the term Yarn Architect to describe her interest in constructing yarns that combine both traditional and contemporary techniques. She also loves to mix up textures and fibre preparations to build multiplied and layered yarns, which she often uses in her other love, freeform weaving. She has been published in Ply and Entangled Magazines, as well as the Dutch Vezel (Fiber) publication. Suzy can be found regularly on Facebook, at www.facebook.com/woolwenchyarns
Beth comes to us from Vermont, USA. She is a well-travelled, internationally renowned teacher of the historic knitting techniques of 19th century Northern Europe. She has travelled extensively in Scandinavia to research knitting techniques and history. Her interest in traditional garments stems from her understanding of the connection between knitters and necessity, old and new. Pattern designer and author of a number of books and DVDs, Beth brings to us her passion for traditional knitting and teaching. Her patterns, designs, and extensive class handouts reflect her dedication to imparting new knowledge to knitters, in a clear, concise, and fun manner, for all styles of learning. Beth's teaching style is calm and compassionate, well known for putting her students at ease. Although her classes are focused on the traditional, these techniques can be applied to modern day garment construction as well, enriching the storehouse of knitting knowledge each knitter has. You can find out more about Beth at www.knittingtraditions.com.
Teacher, mother, grandmother, fibre artist, Saori weaver. Louise began Saori weaving in 2011 and immediately experienced the freedom the Saori techniques offered "to weave from the heart". A Saori weaver is able to "weave their true self" through the cloth they make with the personality of each artist shown in their creation. Louise decided she needed to follow up on this amazing weaving style and visited Saorinomori in Osaka, Japan in 2013, then again 2015. There, she was invited to join the Saori Global Community and share Saori techniques in New Zealand. While in Japan, Louise studied and passed the Saori Hand Weaving Skills tests, Grade 3, Grade 2 and Grade A. She has also successfully completed a workshop in dress designing by draping Saori hand woven cloth. At the WoolOn festival in Alexandra 2015, Louise won her category followed by overall winner with her entry Wool You Love Me. In 2016, she submitted three garments for selection in Fibrant Auckland Creative Fibre Festival and was rewarded by watching them in the Runway Show. Saori weaving is very "catching"; it is relaxing, calming and fun. It is about colour, and texture, no rules, no mistakes. Saori weaving is for anyone, anywhere. Try it! See her website www.weaveyourself.nz for more information.
Born and educated in New Zealand, Rene Corder Evans has always had a love for fine wools, textiles and all things New Zealand, although in her twenties she followed her heart and moved to Canada. It was when she returned to weaving in 1995 that she developed a deep love and appreciation for the art of felt making. In 1996 she was introduced to the Fashion Design Program at University of the Fraser Valley (UFV) in Canada, graduating with a Diploma of Fashion Design in 1999. From 2001 to 2012, Rene was a Textile Instructor within the Fashion Design Program at UFV. She divided her time between creating one of a kind wearable art pieces, teaching weaving at University level, and her career as a business administrator, enjoying the challenges of all three. During this time, Rene also taught felt making at the annual international Maiwa Textile Symposiums, at HGA Convergence in Denver and for numerous textile guilds. In 2012 Rene retired and now spends time in New Zealand and Canada, finding more time for textile arts and continues to teach textile workshops. Rene is enjoying being involved with Creative Fibre New Zealand. She was co-convenor of the 2015 National Exhibition, is the National Treasurer and is honoured to have won several Creative Fibre awards for her fashion runway garments.
Anne Daniel lives near Hokitika on the South Island West Coast, where she has a large collection of harakeke growing, including 25 cultivars from the National Collection. Her first experience of weaving with harakeke was at a weekend community course where she got hooked, and she has been creating with harakeke for the past 15 years. She spent some time weaving with the late Tungia Baker and has done a basket-making course using harakeke. "I love working with harakeke. It has endless possibilities both in technique and form. I use it both natural and dyed. The variations that can be obtained in its natural state in colour and pattern can be stunning, and now I have become excited about the use of colour by dyeing the fibre. I have expanded from weaving small containers and the more traditional kete, including patterned kete whakairo, into art pieces such as wall hangings and sculptural works." Anne's work is largely influenced by nature, especially the beautiful, rugged West Coast of New Zealand's South Island, and the bush surrounding her home and studio. See her website www.annedaniel.co.nz for more information.
Catherine's main craft interest is in woolcraft, especially in creating something useful and beautiful from the raw product which she has grown herself. Part of this process is growing her own colour. Catherine has been interested in plant dyeing for more than 20 years, particularly in the use of plants that can be grown in her own garden. She has completed a number of large projects using yarns dyed exclusively with plant dyes, and has found that many plant dyes can be as colourfast as commercial dyes. She has run plant dyeing workshops in the past for the Christchurch Guild of Weavers and Spinners.
Kate is a feltmaker who has had work accepted in the World of Wearable Arts, The Norsewear Awards, Fibre & Fleece, and the Hokonui Awards. Kate has studied and taught photography at the School of Art, Otago Polytechnic, graduating with a BFA in 2003. She offers professional photography services and will be giving us an insight, in her lecture, on how to get the most out of our digital cameras. She also dyes Merino and Polwarth slivers in beautiful colour combinations which she sells under the name Heavenly Wools.
Restoration of the Hattersley Domestic Weaving System in the artistically diverse town of Oamaru, has led Sue and her husband Rod on a journey of discovery. Parallel to this journey, Sue has followed a career in teaching Art and gaining qualifications in design, textiles and business management. See her website www.mcleanandco.nz for more information.
Growing up with a pair of scissors in one hand and a paintbrush in the other, Tedge has been crafting and creating for as long as she can recall. Her mother taught her to knit at the age of 6, and she has been fixing and finishing her mother's knitting ever since. At 19, a serendipitous visit to a friend's farm (in Gore!) resulted in spinning lessons, Tedge's love of fibrecrafts began, and her first Ashford wheel was constructed. Drop-spindling followed later, extending the possibilities of what & how to spin. A natural progression was a woodturning course, and now Tedge creates her own spindles and other fibre related paraphernalia. Tedge has a Diploma of Visual Art & Design, and can never resist a new craft, technique, or of course more fibre to spin! Find her on Facebook.
Lara learnt to knit as a small child, from her grandmothers, then at Brownies and at school. Crochet, spinning and continental knitting followed in her 30s. She is always experimental in her crafts, always trying something new. Also a technical whizz, Lara will be helping her students to negotiate the often baffling online world of knitting and spinning, and how to use your computer, phone, or tablet and the internet to expand your crafting horizons. Lara has taught Unravelling Ravelry a number of times around Auckland, and it is always popular. Lara's classes are varied, fun and engaging. Bring along your sense of humour!
Marilyn is an experienced tutor of tapestry weaving, drawing and design, with an established reputation as a master weaver and artist. She has been exhibiting her tapestries within New Zealand and overseas for many years. She has worked collaboratively with other artists to create tapestries to their designs and has also exhibited her own work, tapestries and drawings, in solo and group exhibitions. Marilyn is a relaxed and friendly tutor and promises that your experience in this workshop will be enjoyable and productive. See her website www.tapestry.co.nz for further information.
"I was 4 years old when my grandmother, a prolific knitter of lace, taught me to knit. As I had not yet learnt to read, she taught me to 'read' my knitting. This was the beginning of my life-long passion for analysing the structure of knitted fabric, and lace that is knitted, in particular. I have used this knowledge to design my own patterns which are influenced by my New Zealand environment. I am always delighted to share this knowledge which has been greatly enhanced over the years by research and working with knitters from many lace traditions to encourage others to express their ideas in this amazing medium."
Patricia was born and educated in the UK. She came to NZ after marrying a Kiwi, Max, who was doing his OE and studying as an aeronautical engineer. She works predominately in natural fibres, wool, paper, wood and textiles. She also has a love for old things and some of these reclaimed pieces are often seen in her work. Stitch is also ever present. Patricia's recent artworks have been stories about her travels, the environment and issues that are of international concern, for example climate change. She believes that having a creative bent is a gift that enables us to find a sense of joy and meaning in this, often overwhelming, world.