21 Price St, Invercargill
Hand Dyed Spinning Wools, Felting wools, Silk Fibres and related products, Hand Dyed Knitting Wools, Handspun Luxury Knitting Wools, Embroidery threads.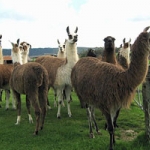 43 George Road, Waikawa Valley, RD 1 Tokanui, Southland 9884
63.43 km
Llama fibre, knitting yarn (manufactured from pure llama fibre) and handcrafted garments for sale. Also Gotland sheep fleeces and knitting yarn (manufactured from pure Gotland fleeces). Visitors are welcome to view the animals 'at home', and the shop which sells their products. Cover charge of $10 applies unless making a purchase.